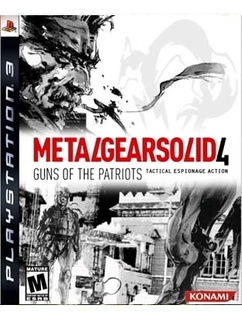 Now that
GTA IV
has launched, undoubtedly the most anticipated new game for the
PlayStation 3
is
Metal Gear Solid 4
. As a way to tie in the hype to sales,
Sony
had previously announced
that they would be bringing a limited edition Gunmetal PlayStation 3 bundle that will include the game as well as the new colorway.
As the games June release date approaches both Sony and
Konami
have released some specifications about the limited edition bundle and its standard 80GB model bundle.
The gunmetal grey 40GB model will feature the exclusive colorway, and will come with "a soundtrack and a
Blu-ray
disc with a behind-the-scenes documentary."
The standard
black
-finish 80GB model will only include a free download of the
Pain
minigame from the online store as an added feature. Of course the 80GB model has backwards compatibility for
PS2
titles, which is not available on the 40GB model.
The limited edition bundle will retail for $600 USD while the standard edition bundle will be available for $500 USD.