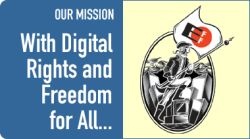 Yesterday we reported
that
NBC
had sent off broadcast flags thus causing Vista Media Center users to not be able to record TV episodes of "American Gladiators" and "Medium" on Monday night.
After these reports surfaced around the internet,
The Electronic Frontier Foundation (EFF)
announced that
the same exact thing was happening to over-the-air (
OTA
) programming, something it had not seen before.
One individual report shows a man attempting to record TV shows from NBC's Raleigh affiliate, WNCN
HD
, and having an alert tell him "the broadcaster has disabled recording of the programming." The man was recording from an antenna signal and EFF confided that it was the first it had ever heard of OTA programming being restricted.
Broadcast flags, which come part of the upcoming
2009 DTV standard
, were challenged in court two years ago by the EFF and the court ruled in favor saying "that using the flags to restrict copying was not appropriate". The law was subsequently thrown out. The panel of judges said the
FCC
did not have the authority to enforce a law of that nature, which is a clear violation of fair use laws.
The EFF then added that Microsoft was voluntarily adopting broadcast flags into its software, as other similar programs now ignore them and have no trouble recording programming even if it is flagged.


"If it is a deliberate 'feature,' they have some explaining to do,"
EFF international outreach coordinator Danny O'Brien said.
"That would amount to putting the desires of content holders above the best interests of its customers."