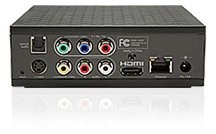 Netflix
founder and CEO Reed Hastings is pleased with his company's performance over the last quarter. The company increased in both revenue and subscribers, just as they have in every quarter but one during their short history. His primary focus during a conference call today was expansion of their
streaming
video offering.
Hastings repeated sentiments voiced
at the company's annual Investor Day
earlier this year. Despite the lack of growth in the
DVD
rental business he predicts that the company's percentage of the market will
continue to increase
, resulting in overall growth for
Netflix
over the next 5-10 years.
He plans to get
Netflix
streaming support built into
Blu-ray
players, game consoles, internet connected DVD players, and standalone set-top boxes. He mentioned the success of the
Roku
set-top box
and partnership with
Microsoft
.
"It's been a huge hit with strong reviews, strong sales, and great subscriber satisfaction,"
he said of
the Roku box
.
"Roku purchasers are streaming video to their TVs and getting great value from the unlimited streaming portion of their Netflix membership."
He added,
"In the future Roku boxes will support other internet video content and migrate from being a Netflix-only player to a general internet video player, which will increase Roku sales and therefore the number of TVs we can stream to."
He also indicated that more details will be released soon with regard to their
partnership with LG Electronics
and mentioned that they have
another partner
whose name hasn't been announced yet.
He also spoke briefly about the recently announced deal to a
dd Netflix streaming to the Xbox 360
, saying
"The Microsoft partnership means that with Microsoft's late fall software update to over 10 million domestic Xbox 360s Netflix members can stream movies and TV episodes to their TVs as long as they are also Xbox Live gold members."
He said the Xbox Live deal is exclusive, meaning PS3 owners won't be getting a similar feature. He also said company executives believe it will be their
"only exclusive deal in any segment."
On competition from kiosks, he said
"The rise of DVD rental kiosks in supermarkets, while new competition for us in the short term, is a bigger competitor for new release focused video stores, and should accelerate store closures over the coming years. In addition the rise of DVD rental kiosks shows that the DVD franchise is still very strong with mainstream consumers."
He sees kiosks and mail delivery operations to both continue growing, while traditional brick and mortar rental outlets will decline.
One area where he was notably short on detail was the variety of titles available for streaming. While he pointed to the increase from 2,000 titles when the service first launched to over 12,000 today, he didn't give any specific estimates for how quickly they'll be adding more titles.
The biggest criticism of their streaming service to date has been a lack of selection. This is especially true of popular titles and new releases. While 12,000 titles sound like a lot, if you consider the number of movies and TV shows released every year it's actually a very small number.