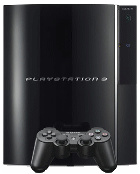 According to the latest figures by
Enterbrain
, the
Sony PlayStation 3
has outsold the
Nintendo Wii
in Japan for the month of March, marking the first time in 16 months that the
Wii
isn't the top seller in the region.
Most analysts say the spike in sales for the PS3 can be attributed to the the games
Ryu Ga Gotoku 3
and
Resident Evil 5
which both sold very well for the console.
Sony sold 146,948 units for the month, compared to 99,335 Wii consoles.
Many believe the numbers will be back to "normal" next month however.
"PS3 hardware sales picked up due to brisk-selling software. But I don't see any drastic change in the industry landscape,"
added
Okasan Securities analyst Masashi Morita.