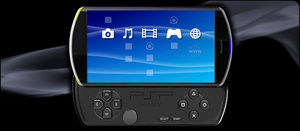 According to
PSLS
,
Sony
will be releasing an updated
PSP
handheld before the holiday season this year, one that will add significant hardware changes.
The
PSP-4000
revision, according to sources, will be announced at the upcoming
E3
event.
Debunking past rumors,
touchscreen will not be added but the proprietary
UMD
format is a thing of the past. With the removal of the disc drive, the
PSP
will add a solid state drive and will keep a removable flash memory port.
The site also wouldn't confirm that the PSP-4000 will have a sliding screen, but implied it. There will also not be the addition of dual analog sticks, which has been hotly anticipated in all rumors.
Perhaps even more notably is that a few blockbuster games will be coming later this year including
Little Big Planet, MAG, Heavy Rain
and
Shadow of the Colossus
.