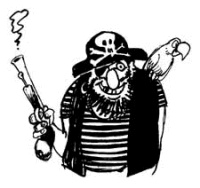 Last week we reported
that a 22-year old woman was arrested in Chicago for recording three minutes of the newest "Twilight" film with a digital camera at the movie theater, and was forced to spend two days in jail awaiting a hearing.
Samantha Tumpach faced up to three years in jail after being charged for criminal use of a motion picture exhibition.
Making it worse is the fact that Tumpach wasn't filming the movie and was instead taping parts of her sister's birthday party, which was taking place at the movie theater. Although the movie is in the background in clips, there are longer clips of family and friends singing happy birthday to Tumpach's sister at the theater. The situation was met with justifiable outrage from almost everyone who read about it, including the director of "Twilight: New
Moon
," who said the woman should have the charges dropped.
Fortunately today, the prosecutors have tossed out the case against her, and apologized for the time she had to spend in a holding cell.
"She's traumatized by this,"
added her lawyer Dominick Dolci.
"This is the worst event of her life and she wants to put it behind her."