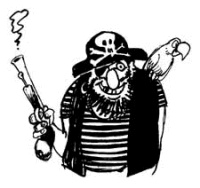 The U.S.
Immigration and Customs Enforcement (ICE)
has announced the shut down of nine movie piracy sites, the first sites in a major
crackdown
from federal officials.
The anti-piracy initiative is dubbed "Operation in Our Sites," and is aimed at taking down sites that stream or offer downloads of films that are currently in theaters.

Movies-links.TV, nowmovies.com, thepiratecity.org, filespump.com, planetmoviez.com, zml.org, tvshack.net, ninjavideo.net and thisninja.net were all taken down.

Each site generated revenue from ads and some accept donations. All assets from the sites were seized, including PayPal and advertising accounts.

ICE president John Morton says the amount of illegal movie sites is rising rapidly, with organized crime behind a number of the bigger sites.

Morton added that the sites taken down combined for "millions and millions of hits on a monthly basis."