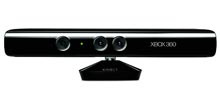 Microsoft
has announced their first
Kinect
bundle today, setting a November 4th release date for the U.S.
The bundle will come with a 250GB slim
Xbox 360
console, the Kinect motion control system and
Kinect Adventures
game for $399.99.
If purchased separately, the console would cost $300, the motion system would cost $150 and the game would cost $40, so the bundle does in fact offer a decent savings.
The bundle will be released in Europe on November 10th, and later in Japan on November 22nd.
You can pre-order the bundle now from
Target, Amazon, GameStop
and
Best Buy
.
"All you have to do is play [Kinect], or watch people play it,"
says
Takashi Sensui, head of Microsoft's home and entertainment division in Japan.
"It's nothing you've seen, and it's a brand new experience that I think a lot of people will be attracted to."