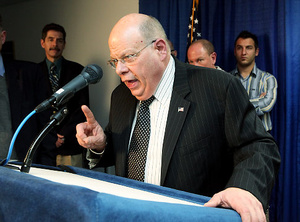 New York Senator Carl Kruger has made headlines today after introducing another ridiculous bill, one that will ban phone usage when crossing the street.
If passed, the bill would ban talking on the phone, texting, listening to iPods with headphones and playing handheld devices while crossing the street.
The fine? $100 if caught.
Says the
Senator:
You can't be fully aware of your surroundings if you're fiddling with a Blackberry, dialing a phone number, playing Super Mario Brothers on a Game Boy or listening to music on an iPod.
Citing some recent examples, Kruger noted the death of a 21-year-old who was hit by truck after he crossed the street listening to loud music via headphones, and a woman who was so "engrossed in conversation on her cell phone" that she walked "straight into a park fountain."
Kruger last made headlines when he posted that the city should balance the budget deficit by trading in the stock market.