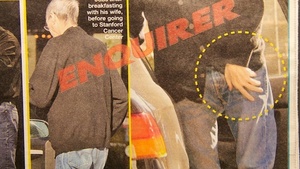 Apple's shares have fallen five points today after the National Enquirer posted pictures of the ailing CEO Steve Jobs, claiming he may only have six weeks to live due to pancreatic cancer.
The pictures show Jobs leaving the Stanford Cancer Center looking very weak and frail, with his clothes hanging loosely from his body.
Jobs, at 6'2, is said to have fallen to 130 pounds.
Furthermore, the CEO has thinning hair which is "a sign of the effects of the advanced chemotherapy usually used to treat the disease."
One critical care physician, Dr. Samuel Jacobson said of the pictures (
via Econ
):
Judging from the photos, he is close to terminal. I would say he has six weeks. He is emaciated and looks to have lost a lot of muscle mass, which spells a poor prognosis.
Despite the tabloid report, more credible agencies like the AP have reported today that Jobs will meet with President Barack Obama today to discuss technology and the U.S.
Whether the rumor is true or not, we at AfterDawn wish Jobs a speedy recovery.