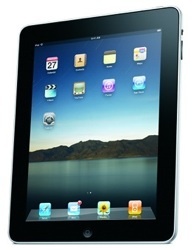 Within 24 hours of launching the iPad 2,
Apple
has dropped the official price of the original iPad, with $100 price cuts across the board.
The base model 16GB/Wi-Fi iPad is now selling for $400, with refurbished models dropping to $350.
At the high end of the spectrum, the 64GB/3G/Wi-Fi model will now sell for $729.
Apple's iPad 2 will be released on March 11th, with the same pricing model as the original, with the base model starting at $500.
Anybody who has purchased a first-gen iPad in the last two weeks can get a $100 refund.
The iPad 2 introduces a new dual-core 1GHz A5 processor, dual cameras, an extremely thin and light form factor, two colorways, an HDMI-out dock and "Smart Covers."
For more information on the iPad 2 check our report here:
Apple iPad 2 coming March 11th, Steve Jobs returns