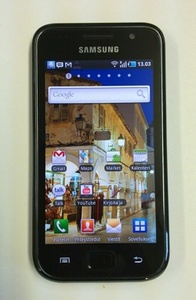 Smartphones now account for more than half the mobile phones sold in western Europe according to numbers released by IDC.
The figures represent sales for the second quarter of 2011. It is the first quarter in which smartphones outsold regular feature phones in the region.

Android dominated smartphone operating systems, representing 52% of that market segment. This was largely due to the success of Samsung, who became the top phone vendor, surpassing Nokia.

Samsung accounted for approximately one third of all phones, with sales of 13.9 million units. This is an improvement from the same quarter in 2010 when they sold 10.8 million phones accounting for 25% of the market.

By contrast, Nokia's sales dropped from 16.2 million in 2Q 2010 to just 9 million in 2011. Their market share fell from 37% to 21%, still making them the number two phone vendor.

Apple's share of the market nearly doubled from 6% in 2010 to 11% in 2011. Of course, unlike either Samsung or Nokia, Apple doesn't sell feature phones.



HTC and Research In Motion rounded out the top five, accounting for approximately 3% each.

Looking just at smartphones, Samsung improved to a 22% market share compared to just 4% a year earlier. Apple was close behind, capturing 21% of smartphone sales.

In third place was HTC with a 14% share.

Research In Motion fell from 18% to 14%, while Nokia took the biggest fall, from 39% in 2010 to a mere 11% this year.