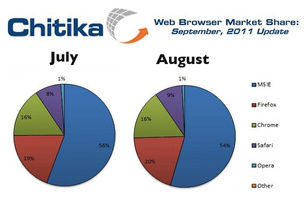 According to the latest research report from
Chitika Insights
, Internet Explorer continues its decline in browser market share.
Share dropped from 56 percent in July to 54 percent in August, alone, while Firefox moved from 19 percent to 20 percent in the same time period.
Apple's
Safari
moved from 8 percent to 9 percent.
Google's
Chrome
picked up about half a percentage point, but remains the fastest growing browser. Year-over-year, Chrome jumped from 9 percent to 16 percent, while IE stayed about flat from 56 percent. Firefox took the biggest hit, from 24 percent to 20 percent.
The report expects Internet Explorer to remain flat into the future with the release of Windows 8 and IE 10 next year.