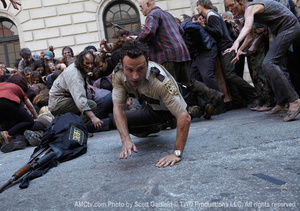 Netflix has announced this weekend that they have signed a new licensing agreement to stream AMC's hit zombie show "The Walking Dead."
The
streaming
company will have the exclusive rights in the United States and Canada.
Additionally, Netflix will have the non-exclusive rights for more AMC, IFC and Sundance Channel content.
Thanks to previous deals, Netflix streams "Mad Men" and "Breaking Bad," the two most popular shows on AMC.
While adding content at a blistering pace, Netflix has seen a reversal of fortune this year after a few key business moves. In the summer, they announced that the very popular streaming/1-DVD-out plan would no longer be available for $9 and instead would be split into two $8 services. Netflix then completely spun-off its
DVD
service, naming the new platform Qwikster.
Netflix's stock has fallen from $300 to $115 since June following the announcements.