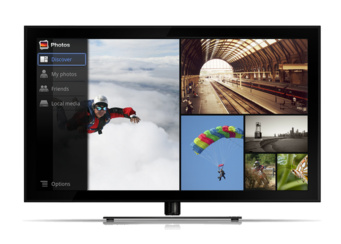 Google TV
, which saw its update to Honeycomb earlier this month,
now has
updated YouTube and Photo apps.
The YouTube app
"introduces playlists to your living room. You can now easily watch your YouTube subscriptions on your HDTV and quickly access your other playlists like Watch Later and Favorites. If you have your own channel, you can now add videos to it from your Google TV. So whether you're a newshound wanting a constant stream of world events or you're a curator in search of an even more endless summer of content, you can sit back on your comfy couch and enjoy YouTube's thousands of options in the High Definition brilliance of your Google TV."
For the new Photos app, Google says,
"the app already syncs with your online photo albums uploaded to Picasa & Flickr, and now we've added a great new feature called Discover to your Google TV Photos app. Discover creates an animated and constantly changing collage using photos from the albums you have uploaded online and synced with your Google TV. When you click on one of the photos in Discover, you go straight to the album where you can start a slideshow or simply view other photos in the album. With Discover you now have an even more fun way to rediscover your favorite memories caught on camera."