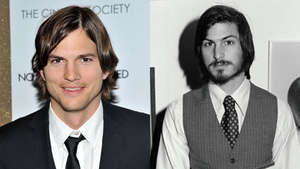 According to
Variety
, Ashton Kutcher will play former
Apple
CEO Steve Jobs in an independent biopic directed by Joshua Michael Stern.
The film will follow Job's teen life up until his time as CEO of the world's most valuable company.
Kutcher will begin filming in May while the actor is on break from 'Two and a Half Men.' Five Star Institute's Mark Hulme is financing and will produce the movie.
The film will be independent of the
Sony
Pictures blockbuster which will be based on the best-selling Walter Isaacson book that was released just a month after the entrepreneur's death.
Given the date for the story, many believed it must be a hoax, but the story has since been confirmed.
(Pic via
THR
)