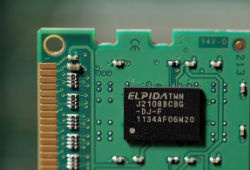 The Japanese chipmaker Elpida Memory, who filed for bankruptcy protection in February, is close to being acquired by U.S.-based Micron Technology.
Liabilities, as of March 2011, were $5.5 billion and the company's desperate attempts to refinance or get a bailout from the Japanese government failed. Elpida was Japan's last DRAM maker and the company was ultimately done in by a Yen at its strongest levels since the end of World War II. Furthermore, South Korean rivals like
Samsung
managed to take large market share in a short period of time thanks to cost efficiency.
At the time of the bankruptcy, Elpida and Micron at 12.1 percent market share each.
Micron bid $2.5 billion and pledged to keep the company's plants open and employees hired.