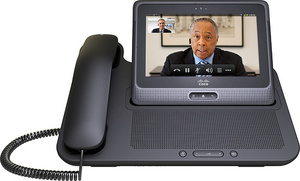 Cisco has decided to pull the plug on its failed Cius tablet.
The Cius, which was released in 2010 and aimed at enterprise customers, had a focus on business video conferencing and specifically boasted about its compatibility with other Cisco apps like WebEx, Jabber, and Quad.
There was little marketing for the device on the consumer side, and it is clear now that it did not resonate well with business users, either.
If you were in the market for a Cius, Cisco says it will still sell your company one "in limited fashion to customers with specific needs or use cases."
Continuing to focus on enterprise, Cisco says they will work to bring their most popular apps to other tablet platforms like
Android
,
iOS
and most likely Windows 8.