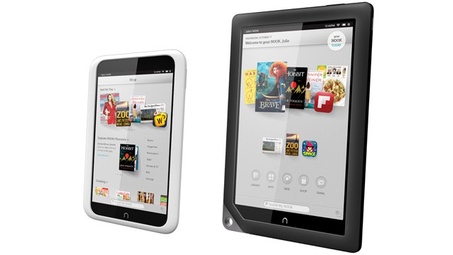 In 2010, Barnes & Noble created the 7-inch low-priced media tablet market by introducing the Nook Color for $250.
Today, the company has introduced the third-generation of the tablet, the Nook
HD
for $199.
Additionally, the company has introduced the 9-inch Nook HD+, which will compete against the new Kindle Fire HD
LTE
and the iPad.
"We did create the category. We are going to do reading better than anyone else -- with the weight of the product, the ergonomics, and the screen -- this display is unprecedented,"
added Barnes & Noble's CEO, William Lynch.
"We are competing with better content consumption specs and adding content types."
The smaller tablet (HD) is the lightest of the 7-inch form factor market, weighing 315 grams compared to 340 grams for the Nexus 7 and 395 grams for the Kindle Fire HD. The device is also a half-inch narrower than the Fire, which the company says makes it easier to hold while reading.
Beating out its rivals, the HD also has a 1440x900
resolution
screen, although it is unclear the PPI.
The larger HD+ "is the lightest and lowest cost full-HD tablet, which is 20 percent lighter than the iPad and nearly half the cost, added the company. The HD+ weighs 515 grams, has a 9-inch screen with a 1920x1080 resolution.
Each tablet runs on a 1.5GHz dual-core processor with 1GB
RAM
. Each tablet has a
microSD
slot for expansion up to 32GB. For tablet camera fans, there are no cameras with either tablet, with the CEO responding:
"Who doesn't have an iPhone or Android phone with a much better megapixel camera all the time?"
The OS is based on Android 4.0 with Barnes & Noble's own UI on top. The devices have
UltraViolet
support for those who have begun building their legal movie libraries.
When asked about features like
GPS
, etc., Lynch adds:
"The top four things people do on these tablets is reading, social, web browsing, and email, and we have nailed all those. Do you need a GPS with maps on it? Who doesn't have a smartphone for that?"