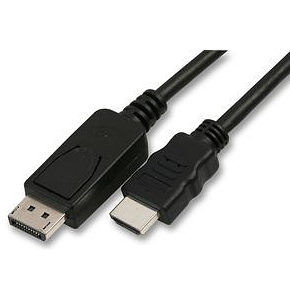 VESA makes update to standard to support HDMI 1.4 display resolutions.
The HDMI 1.4 revision supports video output in 1080p 3D at 60Hz and 4K (Ultra HD) at 30Hz, and also supports 1080p output with deep color. The
Video Electronics Standards Association (VESA)
has announced the updated
DisplayPort Dual-Mode Standard version 1.1
, to provide a higher data rate for DisplayPort-to-HDMI cable adaptors.
DisplayPort was developed to provide a single video interface that both provides advanced features as well as interoperability with HDMI, and legacy displays including VGA and DVI.
The 1.1 revision bumps Dual-Mode cable adaptors' TMDS clock rate up to 300MHz, up from the 165Mhz currently supported. The increased clock rate allows DisplayPort-to-HDMI cable adaptors to output in higher resolutions supported by HDMI 1.4.
VESA also said that existing adaptors will now be referred to as
"Type 1"
adaptors, and the new adaptors as
"Type 2."
A Type 2 adaptor will be backward compatible with an existing Dual-Mode DisplayPort source device, but it will only support up to a 165MHz TMDS clock rate unless it is used with a
"Type 2 enabled"
Dual-Mode DisplayPort source device.
Some existing systems will be software updatable to support Type 2 adaptors.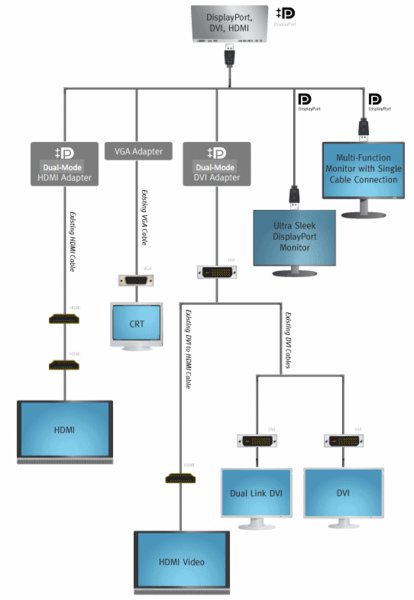 "The first Ultra HD displays were introduced in 2012, but today's Dual-Mode DisplayPort-to-HDMI cable adaptors limit display resolution to 1080p,"
said
Craig Wiley
, senior director of marketing at Parade Technologies, and VESA Board of Directors chairman.
"For a personal computer to fully support HDMI 1.4 or deep color, today a separate HDMI output is needed. This updated DisplayPort Dual-Mode Standard version 1.1 enables full support of HDMI 1.4 video modes, and 1080p deep color, using a simple cable adaptor plugged into the system's DisplayPort output. This helps to reduce the number of interface ports needed on a Personal Computer, which is desirable as form factors shrink."