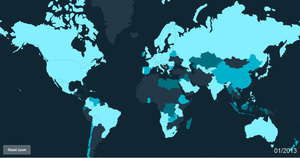 According to a new OpenSignal study, Sweden has the world's fastest 4G, on average.
While the U.S. has the widest
LTE
network, thanks to having three majors each with networks, it only clocked in at 8th for speed.
Sweden's 4G network delivered an average download speed of 22Mbps, beating out Hong Kong at 19.6Mbps, Denmark at 19.1Mbps and Canada at 18Mbps and well ahead of the U.S. at 9.6Mbps.
There were 62 countries with LTE, 21 countries developing LTE, and a global 10.4Mbps average speed. Japan brought up the rear
atA
7.1 Mbps.
Concludes
the survey
:
"What is clear is that LTE represents a significant step forward in telecommunications technology. Its dramatic improvement in speed and latency from 3G shows that it has the potential to be as transformative an advancement as the evolution from 2G to 3G. This is especially true in countries that do not have established fixed line internet infrastructure, meaning that broadband internet can be made widely available through cellular connections. LTE will be present in a projected 83 countries within the next two years, which will drive the production of lower-end LTE-compatible smartphones. The arrival of cheap handsets that are able to make use of LTE which will help expedite mass adoption, leading to the potential for dramatically increased broadband penetration in developing countries."