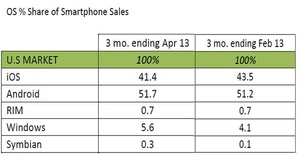 According to research firm
Kantar
, Windows Phone has taken more market share in the U.S. smartphone market than
Android
, year-over-year.
For the period ended April 2013, Android now accounts for 51.7 percent of all smartphone sales, followed by 41.4 percent for
iOS
and Windows Phone at 5.6 percent share.
RIM and Symbian kept their marginal shares at 0.7 percent and 0.3 percent, respectively.
42 percent of Windows Phone buyers came from feature phones, 25 percent from other Windows devices and 23 percent from Android.
"But it's not just about capturing the market that is yet to upgrade. Windows is also seeing success in the younger group. When looking at those who changed device, between 2011 and 2012 Windows was more successful at capturing older consumers aged 50-64. But when looking at those changing now and in the last year, we're seeing Windows now gaining share among those aged 25-34,"
said a Kantar analyst.