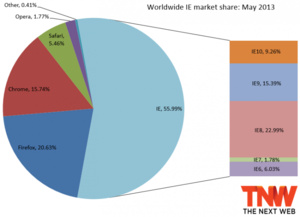 For the month of May, Google's Chrome saw a loss in share, while other browsers
saw marginal gains
.
Internet Explorer share grew from 55.81 percent to 55.99 percent, Firefox jumped from 20.30 percent to 20.63 percent,
Safari
grew 0.08 percentage points to 5.46 percent and even
Opera
took an irrelevant hop from 1.73 to 1.77 percent.
Chrome, on the other hand, fell from 16.35 percent to 15.74 percent and seems to be stuck in third place after a very strong run over the past few years.
Internet Explorer 8 still remains the most popular browser in the world, at 22.99 percent share IE10, now available for Windows 7 users, took the biggest jump, to 9.26 percent.
Firefox remains fragmented, as consumers are still slow to upgrade to the latest overnight builds. Chrome is the most notable, as the browser has fallen to share not seen in almost two years, says the report. It is unclear what is causing the downtrend.
Net Applications uses data from 160 million unique visitors each month and monitors 40,000 Web sites for clients.