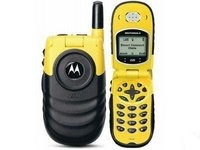 As of tomorrow, Sprint will officially decommission and tear down the Nextel iDEN network that allowed consumers to speak to others via "push-to-talk" on their mobile phones.
The move will help Sprint free up much needed spectrum and cell towers that will now be used for the company's relevant 4G
LTE
network.
At midnight tonight,
your iDEN device will stop working
, even for emergencies (like 911 calls) so you will have a paper weight if nothing else. Sprint has been letting iDEN network users know since 2010 that the network would be shut down for good by June 2013.
Earlier in the century, the network had 6 million subscribers, and Nextel had 20 million subscribers in total. Sprint acquired Nextel for $36 billion in 2005 and 3 years later wrote down almost $30 billion as a loss, a major financial disaster for the companies.
For those who still want push-to-talk, Sprint does still offer it via their
CDMA
Direct Connect
network.