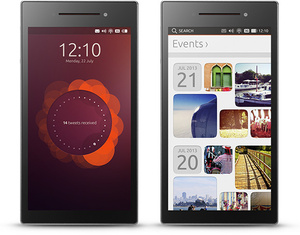 Canonical has unveiled their upcoming Ubuntu Edge smartphone.
The company has put the device up via crowdfunding site Indiegogo and is looking to raise $32 million in the next month, a huge task.
Here is the full spec list:
Dual boot Ubuntu mobile OS and Android
Fully integrated Ubuntu desktop PC when docked
Fastest multi-core CPU, 4GB RAM, 128GB storage
4.5in 1,280 x 720 HD sapphire crystal display
8mp low-light rear camera, 2mp front camera
Dual-LTE, dual-band 802.11n Wi-Fi, Bluetooth 4, NFC
GPS, accelerometer, gyro, proximity sensor, compass, barometer
Stereo speakers with HD audio, dual-mic recording, Active Noise Cancellation
MHL connector, 3.5mm jack
Silicon-anode Li-Ion battery
64 x 9 x 124mm
Canonical says the device will be your main PC anywhere, no matter whether you are using Android or Ubuntu for mobiles thanks to the recently announced Ubuntu for Android app.
The first 5000 buyers get the device for an intro price of $600, unlocked, along with a shoutout on Canonical's founders page. After those are bought up, the phone will set you back $830. As of writing, the company has raised $2.24 million.
Read about the phone and potentially pledge, here:
Indiegogo- Ubuntu Edge