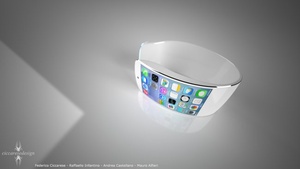 Although the company has still not confirmed the iWatch, designer Federico Ciccarese has created some realistic mocks of the smartwatch.
Ciccarese has created many
Apple
product concepts in the past, and his latest has brought together all kinds of existing rumors for the device including a slap-on wristband and flexible display along with
iOS
7.
Apple is said to have assembled a "dream team" to build the watch, which is not expected until next year. (See video)
Rival
Samsung
will unveil their Galaxy Gear smartwatch next week at a press event on September 4th, but the device will not have a flexible display, at least not in its first generation.