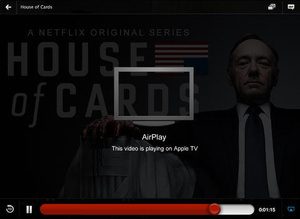 Netflix for
iOS
has been updated this week, adding a couple of notable new features.
If you are running iOS 7, you will now have access to
HD
streams and AirPlay support.
Earlier this year, Netflix added
1080p
streaming
support to
Android
devices and now your iPad and iPhone will have the same.
Adds
the streaming giant:
"With our latest app, you can now also start streaming over AirPlay. This new feature is very simple and works on all iOS 7 devices. You can choose a title to watch on your iPhone or iPad and start playback. If there is an Apple TV device connected to the same Wifi network, an AirPlay icon appears. Press the AirPlay icon and playback will move to your Apple TV."
Additionally, you can use you iOS device as a remote control for the Apple TV during Airplay.