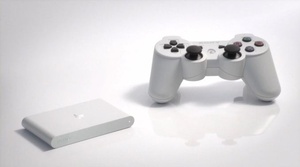 Sony
has sent out an invite for a UK press event in which the company will unveil the "slimmest" PlayStation device for the region.
Engadget
says the company will not be launching a new device but rather unveiling the
PlayStation Vita
TV that has been available in Japan, only, so far.
The micro-console, at 6.5cm x 10.5cm x 1.3cm, competes Android-based gaming set-tops like the Ouya. Allowing you to play Vita games on your TV, the hardware has a slot that lets you load games from the handheld and then play it with a standard
DualShock 3
or 4 PlayStation controller.
Additionally, the hardware lets you use
streaming
services such as Netflix and Hulu Plus and eventually will let you play your
PlayStation 4
via Remote Play with
DualShock
4, an impressive feature. Finally, if you have a controller, you can play PSOne Classic and original
PSP
games, as well.