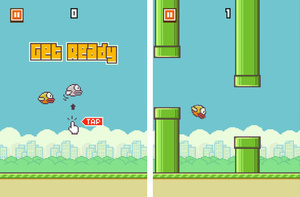 Dong Nguyen, the developer behind the frustrating blockbuster game Flappy Bird, has said he will remove the game tomorrow despite its massive success.
The game, which took him just a few days to code and is now the top game on
Android
and
iOS
, lets gamers tap the screen to get their bird to fly through pipes. That's it. Making it a viral hit is the fact that the game is hard, extremely hard, with many struggling to even get 5 points.
Nguyen, who is said to be bringing in over $50,000 in ad revenue per day from the tens of millions of downloads the game has received in its time on the market, has often said he does not want all the attention brought by the game, and that he wants peace.
The developer will continue to make other games, but will supposedly remove Flappy Bird tomorrow. All social sharing ability has already been removed. Nguyen has also tweeted that he is not looking to sell the game.
I am sorry 'Flappy Bird' users, 22 hours from now, I will take 'Flappy Bird' down. I cannot take this anymore.

-- Dong Nguyen (@dongatory) February 8, 2014