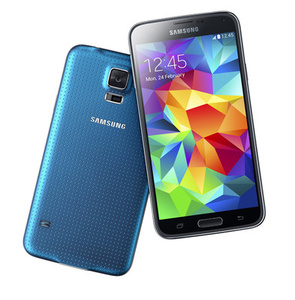 Samsung
has unveiled their Galaxy S5, a rehauled version of last year's successful S4, and next progression of the popular line of devices.
The company has increased the screen size to 5.1 inches, kept the
1080p
Super AMOLED display but added a plethora of new features. Under the display is a new home key with a fingerprint scanner, and under the camera is a heart rate monitor, adding to the industry's move towards fitness tracking.
Around the edges, the phone keeps the same metal-esque plastic and the
USB 3.0
charging port has now been given a port cover to help with waterproofing. Samsung has added IP67 certification for water and dust resistance, meaning a dunk in some shallow water will likely not kill the device. The back cover is no longer the ugly plastic we are used to, and is instead the soft-touch rubber well known to original Nexus 7 owners. The new back cover will be much more comfortable, and frankly, is much more aesthetically pleasing.
"With the Galaxy S5, Samsung is going back to basics to focus on delivering the capabilities that matter most to our consumers,"
said JK Shin, President and Head of IT & Mobile Communications Division at Samsung.
"Consumers are looking for mobile tools that inspire and support them as they improve their everyday lives. The Galaxy S5 represents an iconic design with essential and useful features to focus on delivering the ultimate smartphone on the market today through people inspired innovation."
Samsung has kept up with high-end specs, starting with
Android
4.4.2 +
TouchWiz
. Under the hood is a 2.5GHz Quad core processor, 2GB
RAM
, 16/32GB internal storage,
microSD
slot, dual cameras, 16MP (rear) with 4K video support, 2.0MP (front),
LTE
Cat 4,
802.11
a/b/g/n/ac MIMO(2x2) Wi-Fi, Bluetooth 4.0 BLE,
NFC
and a built-in IR remote to control TV and other devices.
On the software end, Samsung has jam-packed the device with the usual Samsung apps including an upgraded S Health app.
The S5 will hit shelves on April 11th and be available on all major carriers. The smartphone is expected to sell for $200 on contract and $600 off.