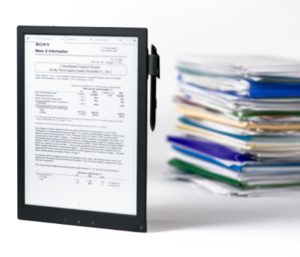 Last year,
Sony
released their Digital
Paper
e-reader/tablet in Japan to a niche audience. It will now try to reach that same niche audience in the U.S.
The device, which is part e-reader and part tablet, is aimed at legal professionals with extreme note taking needs.
Digital Paper devices have 13.3-inch flexible e-ink displays with 1600x1200
resolution
, 3GB internal storage (with
microSD
slot for more), Wi-Fi support, a battery that lasts over three weeks on average and a design that is just 6.8mm thick and 0.79 pounds heavy.
The device also has optical and active digitizer touchscreens for both finger and stylus inputs. You can mark documents right on the screen, although the device shockingly only supports PDFs. Even with Wi-Fi ability, there is no way to add an email client or other apps.
Sony will sell the Digital Paper through document management company Worlddox
for the hefty price tag of $1100
, even more expensive than the highest capacity 4G-capable iPad Air.