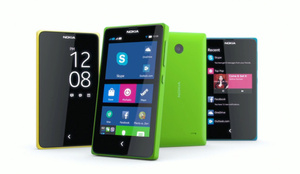 According to BGR,
Microsoft
is preparing a line of Android-based smartphones to complement their Windows Phones.
The handsets will be sequels to the
Nokia
X
Android
phone released earlier this year in India and Latin America.
Microsoft recently completed their $7 billion acquisition of the Finnish handset maker and its patents.
With their Nokia X, the company effectively took the open-source nature of Android and molded it to look like Windows Phone and included a suite of Nokia and Microsoft apps while leaving out Google applications like Gmail, Chrome, and even the Google Play Store. Nokia has its own app store, as well, and Nokia said at the time they hope the phones will be gateways to
Lumia
Windows Phones and their own growing ecosystem.
Supposedly, the new phones will be priced lower than entry-level Lumias, but higher than white box Android devices.
Source:
BGR