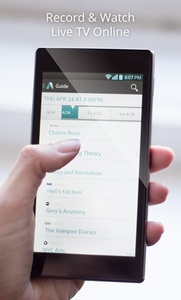 Aereo
has updated their
Android
app to add support for Google's
HDMI
dongle Chromecast, as expected.
The startup's service, which costs $8 per month, allows users to watch free,
OTA
content on any mobile device along with a free remote
DVR
. Aereo does not pay any re-transmission fees as it uses tiny digital TV antennas for each user in its own facilities and links to the streams.
Android users will be able to now stream broadcast content to their HDTVs without a cable subscription and with cheap hardware. Compared to having a digital antenna, Aereo allows you to pause/rewind live TV, and record to a cloud DVR.
Aereo has also been available for Roku, and remains available via mobile devices and Web browsers.
The company is in a fight for its survival as a case brought by the major broadcasters is under Supreme Court review.