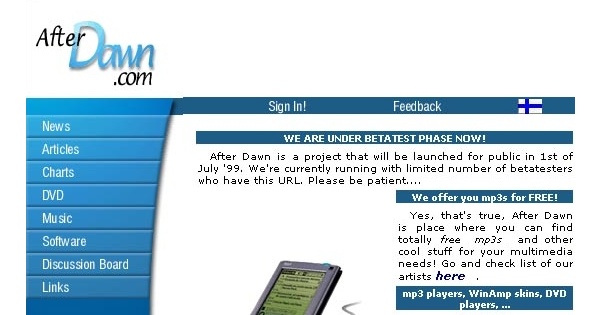 In our article series, we're digging into AfterDawn's news archive and looking what happened exactly 20 years ago. This article series also celebrates AfterDawn's 20th anniversary.
So, we're digging into our news archive and trying to figure out what was hot and what was not, back in November, 1999 when our site was only four months old. I'd like to remind you, our readers, that back then, AfterDawn was strictly focused on digital audio and video technologies and reporting events in those genres. More generic "all about tech" arrived to our site much later.
New file sharing software pop up almost daily
As
Napster
has grabbed the headlines across the world, competitors appear on almost daily basis to take a slice of the growing file sharing business. Legal or not, there's a goldrush among software developers those days, hoping that somehow, file sharing would be deemed legal and one of the players would emerge out of the wars as the winner.
In our news back in November, 1999, we covered several software releases related to file sharing software. One of the strongest players back then was
CuteMX
. Software itself didn't live for very long, as the developers decided to call it quits after Napster's troubles with the law started to grow. But for a very short time, back then, it was considered as the top contender to Napster - superior technically in many ways.
CuteMX was actually developed by a company behind still-existing popular FTP client,
CuteFTP
and the decision to pull out of the file sharing business was probably the right one, as the company still exists - unlike most of those companies that released their own P2P clients back then. We covered CuteMX's
story
quite
often
in November, 1999
Napster itself had a busy month, too, as
RIAA
finally had enough of its popularity and
sued Napster
. This began one of the most closely watched trial of the late 1990s. As we know, ultimately, RIAA won the case and Napster, as it was, haven't existed in years. Despite the troubles, Napster's software development was at full speed, as the company released
Napster v2.0
for Windows and first-ever
official Linux client
.
Physical MP3 players here and there
As MP3s were The Thing back then, there was also massive rush to introduce new products to that segment. In 1999, tons of new portable MP3 players were introduced. Most notable one was probably the
Sony
's
announcement
to develop its own MP3 player - considering that Sony Music was one of the major record labels, suing pretty much everybody who were into file sharing business. And in those days, legal MP3 files were extremely rare, unless you ripped your own CDs for your personal use
(and even that was illegal in some jurisdictions)
.
In portable MP3 player scene there was also a new trend rising, as
Microsoft
tried to get its own
WMA
format to compete against MP3s. Biggest portable MP3 player manufacturer in those days was
Rio
who
decided to add support for WMA files
with their upcoming new products. A big win for Microsoft. And yes, Sony had
signed a similar deal with Microsoft
, too.
Smaller manufacturers tried to do different things:
Lik Sang
released their
DVD / VCD / MP3 player
and
first commercial car stereo capable of playing MP3s was released
, too. Also, world's second largest mobile phone manufacturer in those days was Swedish
Ericsson
who announced that their upcoming
mobile phones would support MP3 playback
.
Cloud storage emerges
Nowadays we pretty much take it for the granted that
Google
provides us free 15GB cloud storage,
Dropbox
has 2GB free storage and
Apple
offers 5GB of iCloud storage. Back in 1999 most people didn't have HDDs that big. And most of the connected world was still using dial-up modems to connect to the Internet.
But despite these limitations, first cloud storage services started to appear back then. Company called
NetDrive.com
started offering a whopping 100MB free online storage
back in November, 1999. This was unbelievable back then. Most free email providers, for example, had a limit of 2MB or 10MB for the client's inbox, email attachments had to be less than 1MB in size, etc. Storage was extremely expensive in 1999 when you compare it to current prices.
Obviously, the massive CPM prices online advertising used to pay back in 1999, before the dot-com crash, made such offers possible, even financially.
Online streaming starts to grow
Nobody imagined that online streaming would crush physical files
(not to mention physical media)
so completely, as it has done today. But online streaming was a growing business back then, too, despite the obvious problems
(slow internet speeds, bad compression technologies, etc)
.
Artists started offering
selected singles
as legal streams and
VH1
even started offering
full albums, legally, through streaming
.
Researchers also guestimated how Internet will shaped the music business in years to come. One research study
concluded that online music business will be worth $5.2 in 2005
, in six years' time.
Well, looking back, the actual figure was less than that,
only $1.1 billion
in 2005 when only digital sales were counted. But the research study in 1999 also included sales of physical CDs through online retailers to that figure. So, it probably was pretty accurate - or even modest - estimate of what really happened six years later.
Other news
One of the most interesting news was definitely the small blurp about
Streambox VCR
. Streambox VCR was a small software that allowed capturing
RealAudio
and
RealVideo
streams as physical files to your own computer.
As said, legal streaming was growing back then and by capturing legal streams, you could theoretically build your own music library, without having to use
(bit risky)
file sharing apps. As said, buying digital music was pretty much impossible back in 1999 - so in order to have a massive digital audio library of your own, you had to resort to illegal activies, one way or another.
Streambox VCR actually became one of the most popular software ever to be downloaded from
our software section
until we had to remove it back in mid-2000s when European Union Copyright Directive came into force here in Finland
(AfterDawn's home country)
.
And then there was the "Napster of the movie industry", the boogieman that scared
MPAA
into full litigation mode for years to come,
DeCSS
. A small piece of code that allowed removing copy protection mechanisms built into commercial DVD discs. Release of that small software opened the floodgates to full-blown DVD piracy across the world.
The birth of the DeCSS was actually made possible by a bug in official DVD player software, developed by
Xing Technology
. Company had forgot to encrypt their DVD decryption key and some smart people found that unencrypted key from the software and used it to create the DeCSS tool.
So, that's a brief summary of some of the highlights in our news 20 years ago. If you want to get more of these flashbacks, here are the other "20 years ago" articles we've published so far:
News in October, 1999: Mobile phones about to play MP3s?!
News in August, 1999: Matrix vs Titanic
News in July, 1999: Winamp vs Sonique - The era of Windows customizations
News in June, 1999: AfterDawn launches, ancient software updates and more
P.S. Yes, we missed the September, 1999 coverage. We'll fix that as soon as we can. Apologies.