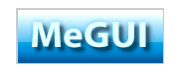 Over the last three months I've been working hard on a number of
MPEG
-4 related guides for tools like
SUPER
and AutoMKV. I'm now pleased to announce a number of guides for one of the most powerful tools available
MPEG-4
AVC
encoding, called
MeGUI
.
MeGUI
is one of many programs designed to make converting video from various formats to MPEG-4 with free tools easy for the average user. Although it's a little more complex than other tools made for this purpose, the result is a program that includes more tools, options, and customizable features than any other available at the current time.
To help get you started with
MeGUI
you can start with
MeGUI Installation and Configuration
, which walks you through installing and updating
MeGUI
. In addition to the main program and the tools included in its autoupdate feature, this guide will walk you through downloading and installing additional helper applications, like the
Nero
AAC
(audio) encoder, to take full advantage of MeGUI's features.
Once you have
MeGUI
installed you can move on to the new 3 part guide for backing up DVDs for converting from
DVD
to AVC with
MeGUI
. Don't be intimidated by the fact that there are three parts. While there are a lot of pieces to put together for creating your
MKV
or
MP4
file. After getting through the process just once or twice most people find it very intuitive.
In
DVD to AVC with MeGUI Part 1
you'll learn how to extract the required information from you DVD files to not only encode the video and audio, but also keep the subtitles and chapter points from the original.
DVD to AVC with MeGUI Part 2
walks you through the process of using MeGUI's built-in tool for creating an
AviSynth
script to use as input for the high quality
x264
video encoder, as well as deinterlacing and resizing. Finally, in
DVD to AVC with MeGUI Part 3
you'll encode your video and audio and create either a MKV (
Matroska
) or MP4 file.
If you need help playing the MKV or MP4 files encoded with MeGUI make sure to take a look at our guides for
Haali Media Splitter
,
ffdshow
, and
AC3Filter
.