In the past decade free video tools ranging from encoders to editors and authoring software have made a major mark on the digital video landscape. At one time those tools were primarily used by the hardcore power users willing to put in the hours necessary to grasp the technical details intimately.
More recently successors to tools like IfoEdit, DVD2SVCD, Gordian Knot and AutoGK have come a long way in terms of both useability and functionality. In fact MPEG-4 encoding seems to be dominated by these tools despite the availability of good consumer alternatives. We decided to take a look at some of the tools in use today and see how they stack up.
We chose five programs to review. Our criteria were that they should all encode to multiple formats, including MPEG-4 AVC/H.264. In fact all the tested programs encoded to both MPEG-4 AVC and MPEG-4 ASP (XviD). We also looked for programs which have been in development for a while. With one exception, every program was initially released at least three years ago and the last one is from an established encoder GUI developer. All are relatively mature products so they shouldn't have any big problems.
We ended up choosing SUPER, Handbrake, StaxRip, HDConvertToX and MeGUI. In addition to the above criteria, they were selected because of different approaches to the user interface and access to advanced features and settings. It's more about matching tools to users than figuring out which tool is best. If your favorite program wasn't included this time around, leave a comment and we may review it in the future.
Before the criticism begins it should also be noted that these programs were also chosen because of their overall high quality. Despite any limitations, they are all capable programs and the developers of each have a lot to be proud of. And while none of them is suitable for everyone, each is a good fit for someone.
About the Ratings
First, a brief explanation of the ratings. Some of the categories are mostly objective, like the range of input and output formats. Others, like Ease of Use and Ease of Configuration, are completely subjective and should be taken in the context of the accompanying description.
Input & Output formats & Containers
Video files can be found in an amazing variety of formats and containers. For this rating five stars means the program can read or create any type of file you can find a use for.
The exceptions are TS and VOB containers, which are normally created as part of the authoring process for some specific application (DVD, Blu-ray, ATSC broadcast, DVB broadcast, etc., ...). An inability to create these files won't be reflected in the ratings. Reading those files is another story. Both containers are common enough, and support for reading them is widely enough available, that a general purpose video tool should be able to read them.
Automated Setup
Since free software typically relies on third party tools and code to actually perform the editing, encoding, and authoring there can be a significant amount of downloading, installing, and configuring supporting software. A rating of 5 in this category indicates that the software either includes or automates the process entirely.
Encoding, Editing, Authoring Features
Just because two programs use features from the same third party tool doesn't mean they necessarily do the same things. Better ratings indicate that a program exposes these settings, either directly or through some sort of template interface, for the user to adjust. Generally speaking, editing mostly refers to cropping, resizing, and deinterlacing, although in the case of more advanced tools it can involve much more. Unless otherwise noted in the review, authoring refers to creating files with chapters.
Encoder settings can generally be divided into three main groups. A few settings, like bitrate or quality (CRF, CQ, or whatever a particular encoder calls it) are pretty much guaranteed to be user adjustable. Other settings, like the number of B-frames and GOP size are commonly set to user preferences, but usually found in a separate advanced settings area. A third group includes VBV buffer settings and similar highly technical (and often device-specific) details is often skipped entirely (in the user interface).
Ease of Configuration and Use
This represents how easy or difficult it was to use the software. Higher ratings could indicate presets that make most of the decisions for you or a wizard interface which asks you all the relevant questions and chooses settings automatically. In other cases they may simply be an indication of a program with fewer features. It's important to read the explanation for each program to understand these ratings.
---
SUPER v2009 build 36
Features at a glance

Source Video Formats
Any
Source Audio Formats
Any
Source Containers
Any
Output Video Formats
Any
Output Audio Formats
List
Output Containers
Any
Tools
File Joiner
Demuxer
Muxer
Player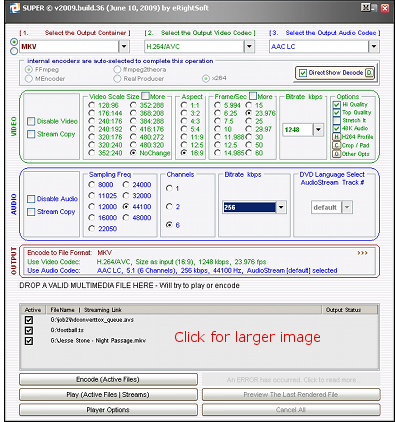 SUPER stands for Simplified Universal Player, Encoder, and Renderer, and simplicity is definitely its key defining characteristic. It doesn't have a tabbed interface. Most information is in a single main window with some additional settings available in popup dialogs. Presets abound for creating everything from generic MKV files with MPEG-4 video to simple image sequences (individual image files for each frame) or audio-only files encoded to any number of standards.
SUPER accepts input in any format and container supported by ffmpeg, an open source library which has become something of a standard for free software developers. It can also output video in just about any format you can think of, something none of the other programs in this review can match. If you want MPEG-1 for VCD, MPEG-2 for SVCD or DVD, or MPEG-4 for any number of device or application specific formats. It can even output animated GIFs or image sequences (1 image file per video frame).
Installation and configuration were as easy as they could get. Since SUPER includes the open source tools required for all its editing and encoding features there's no need to install additional software. It can also use DirectShow for decoding to take advantage of any additional playback software you have to decode video.
SUPER is a very nice tool for simple jobs. Encoding a 60fps (frames per second) 720p MPEG-2 TV capture to AVC or XviD in a MKV file is easily done. But when it comes to more complex operations, like recovering 23.976fps progressive video from a TV capture it's not quite so easy. Sure you can set the framerate to 23.976fps, but there's no indication of whether there will be an inverse telecine (IVTC) operation performed.
Since SUPER accepts AviSynth scripts as source files it's certainly possible to get around these limitations. But there are other free programs which integrate AviSynth script editing which might offer a better
Ratings

Input Formats/Containers
Output Formats/Containers
Automated Setup
Encoding Features & Settings
Editing Features & Settings
Authoring Features & Settings
Ease of Configuration
Ease of Use
experience.
Access to encoder settings is even more restricted. In fact aside from some basics like bitrate or single pass quality settings only Profile and Level settings for AVC (H.264) encoding are exposed to the user. On one hand this is an understandable approach for a program focused on keeping things simple. On the other it limits the possibilities for customizing video completely to your own settings.
Which isn't to say SUPER isn't a good piece of software. With very little user input it can produce very nice looking video. But if you have a tricky source or want your own non-standard settings, or maybe just want to learn how to tweak your video for optimum quality, file size or encoder speed, you can easily outgrow it.
And even if SUPER doesn't meet your needs for every job it's simple interface makes it great for specific jobs like moving video and audio streams from one container to another or creating lossless HuffYUV files from AviSynth scripts.
Handbrake v0.9.4
Features at a glance

Source Video Formats
Any
Source Audio Formats
Any
Source Containers
Any
Output Video Formats
MPEG-4 ASP
MPEG-4 AVC (H.264)
OGG Theora
Output Audio Formats
AAC
MP3
AC-3 (Dolby Digital)
OGG Vorbis
Output Containers
MP4 (aka M4V)
MKV (Matroska)
Tools
Query Editor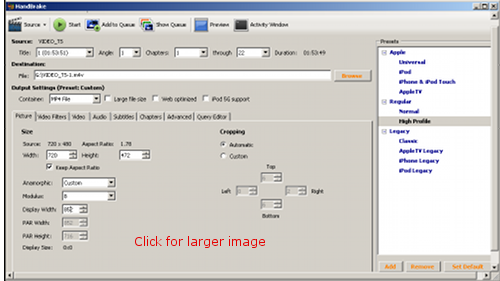 Like SUPER, Handbrake is a program with a simple interface and relatively few options available to the user. However that's just about where the similarities between the two programs ends. Where SUPER provides support for converting to just about any format under the sun, Handbrake has a narrow focus on MPEG-4, and to a lesser extent OGG Theora (VP3) video.
Handbrake is sometimes thought of as "Mac software" because the OS X version was what initially made it a hit. Although there is a definite emphasis on creating video for Apple products, ranging from iPods to iPhones to AppleTV boxes, you can also do general purpose encoding with it and there is a perfectly good Windows version (either command line or GUI) available.
Handbrake can read pretty much any video file you throw at it. As previously mentioned, output is much more limited. You can encoded to MPEG-4 AVC/H.264 using the x264 encoder, to MPEG-4 ASP (like DivX or XviD) with the FFmpeg encoder or to OGG Theora. Handbrake can encode MP3, AAC or OGG Vorbis audio and passthrough (keep from the source) AC3 (Dolby Digital) and DTS. It can also do some simple authoring, in the form of chapter points copied from a source DVD.
Most of the time Handbrake's output is further constrained by the use of Presets. Presets are settings used to ensure your output is compatible with a particular device or application. There are also generic presets for Normal Profile and High Profile AVC encoding.
Setup and configuration are quite simple. Since it doesn't rely on any additional software being installed, all you have to worry about is a handful of options within the program. With the emphasis on presets, there really isn't that much to manually configure.
Although Handbrake doesn't let you fiddle with all of x264's numerous settings, it does give you the ability to tweak some that the average user may find useful. Most of these options directly affect encoding speed, like the number of consecutive B frames or how big a search radius to use for motion estimation.
Handbrake's crop and resize features are quite impressive. Auto-cropping worked very nicely in my tests, avoiding over cropping. It's a little thing, but one that not a lot of programs do well. The resize interface is even more impressive. It gives you detailed information about both the real resolution or DAR (Display Aspect Ratio) and SAR (Signal Aspect Ratio). In Custom mode you can individually adjust DAR and SAR. It's a very simple, yet extremely powerful feature.
Dealing with telecine is another matter. In the previous version of Handbrake (v0.9.3) IVTC (Inverse Telecine) was divided into pattern matching to create progressive video with repeated frames, and decimating to recover original film frames. There was even an option to encode titles with both telecined 23.976fps film and true 29.97fps interlaced video as variable framerate (VFR) files.
The new version gives you 3 options - Off, Default, and Custom. When you select Custom a text box appears that I have no idea what to do with. The documentation for this feature hasn't been updated yet so the jury's still out on this feature for me. Assuming it works similarly to Handbrake v0.9.3 it's a nice set of options.
Handbrake also exposes some core x264 configuration options which will
Ratings

Input Formats/Containers
Output Formats/Containers
Automated Setup
Encoding Features & Settings
Editing Features & Settings
Authoring Features & Settings
Ease of Configuration
Ease of Use
directly affect the quality, size and encoding time for your output video. Perhaps most importantly, detailed tooltips appear when you hold your mouse pointer over each option to give you a pretty good idea of what it does and how or when to adjust it. One of the most significant changes from v0.9.3 is the ability to set the CRF (Constant Rate Factor) for single pass quality based encoding.
Thanks in large part to a narrow focus on Apple devices and general AVC encoding, Handbrake manages to be easy to use while still exposing just enough video encoder options to keep compulsive settings tweakers (like me) happy. If you are looking to encode video that falls to far away from that focus, such as files to play on a game console, blu-ray or DVD player, or non-Apple set-top box you would be better served with one of the last three programs reviewed.
That's assuming, of course, you are on Windows. Unlike Handbrake, StaxRip, HDConvertToX and MeGUI are Windows specific programs thanks to the reliance on AviSynth, among other Windows-only programs.
StaxRip 1.1.2.1 beta
Features at a glance

Source Video Formats
Any
Source Audio Formats
Any
Source Containers
MPEG-4 (.MP4/.M4V)
AVI (.AVI)
Matroska (.MKV)
MPEG-2 PS (.MPG/.MPEG)
DVD (.VOB)
MPEG-2 TS (.TS/.M2TS)
Output Video Formats
Passthrough 1
MPEG-4 ASP (DivX/XviD)
MPEG-4 AVC (X264)
Output Audio Formats
Passthrough 1
AAC
MP3
Vorbis
Output Containers
AVI (.AVI)
DIVX (.DIVX)
MPEG-4 (.MP4)
Matroska (.MKV)
RAW
Tools
Trim editor for TV captures
1 Keep original source video or audio stream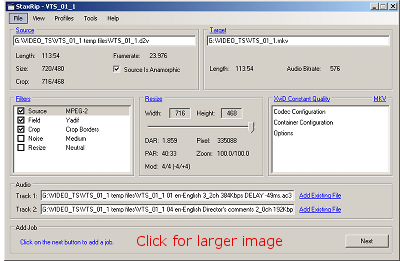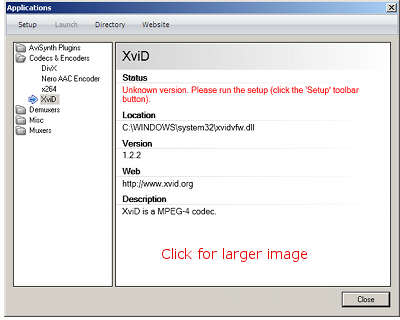 StaxRip is different from SUPER and Handbrake in one significant way. Rather than being an editor/encoder/authoring application that comes with all the tools it requires, StaxRip is a frontend GUI that takes advantage of a number of Windows command line tools, DirectShow filters, and perhaps most importantly, AviSynth scripting. What makes it similar to those programs is a straight forward and simple main window. What separates it from both, as well as HDConvertToX and MeGUI, is an integrated help/tutoria/automated install system which walks you through the program as you use it.
I really can't say enough about how helpful StaxRip's automation is. For example, when you select your source file you are first greeted by an information dialog that explains what you are doing and then another with three huge buttons, each explaining in some detail the option you are selecting. It's almost like a tutorial integrated into the program.
Occasionally you will reach a point where StaxRip needs a third party tool to be installed. When that happens it will open a configuration dialog which explains the situation and then downloads and runs the installer for you, then returns to what it was doing.
Being a frontend, rather than a traditional standalone program like Handbrake or SUPER, StaxRip is limited only by what other programs can support. In particular AviSynth scripts are used in order to allow quite extensive editing so any format you can open with AviSynth (which is pretty much anything) can be used as a source file..In fact one of StaxRip's nicer features is the Preview window with controls to cut out parts of the video. Very handy if you are encoding TV captures and want to avoid using other tools for that purpose.
Video encoding options are limited to MPEG-4 ASP (DivX or XviD) and MPEG-4 AVC/H.264 (x264). Audio options are AAC, MP3, OGG Vorbis, or Add Existing (source audio) file.
Output containers include Matroska (.MKV), MP4, AVI, DIVX (.DIVX - an extension of AVI) or Raw output not muxed into a container. You can add subtitles and chapters in the container confiugration but there doesn't appear to be a setting to demux subtitles from the source or read chapter information from a DVD's IFO file.
Despite its simple main window, StaxRip gives you access to pretty much every feature of x264, including details like VBV Buffer settings that only experts should be messing with. If you prefer you can stick to some presets on the first (Basic) tab of the dialog and let StaxRip (via the profile settings) make the majority of the decisions for you. If you do decide to customize, you can also save your own profiles to save time in the future. You can do the same with AviSynth settings, although that will probably be too intimidating for the average user.
XviD settings aren't nearly as detailed, and VirtualDub and a VfW XviD codec are used instead of the command line encoder used in most programs. If you want to encode to XviD you might be better off with another program, like MeGUI. DivX settings are provided by the DivX installation on your computer.
StaxRip features anamorphic encoding, but only to the same PAR (Pixel
Ratings



Input Formats/Containers
Output Formats/Containers
Automated Setup
Encoding Features & Settings
Editing Features & Settings
Authoring Features & Settings
Ease of Configuration
Ease of Use
Aspect Ratio) as your source. The resize settings in general were a little less clear than the rest of the program. It took me some time to find the option for resizing to Mod8 instead of Mod16 width. However, having found it once I wouldn't have any problem finding my way back.
The integration of a number of AviSynth filters for deinterlacing, IVTC, cropping, resizing, denoising. And, of course, it's also used for previewing and cutting the video. If there's anything that's lacking it's an script editor where you could add filters manually. It will probably never be an issue for most people, but if you're looking for that level of control StaxRip may not be right for you.
If you want a tool for encoding MPEG-4 AVC video there's a good chance StaxRip will do what you need, and in a way that's equally useful for novices and fairly advanced users. Its Trim feature makes it particularly nice for TV captures that need commercials edited out. Whether you want to test out your own settings or let the software make most of the decisions for you, I would expect it to meet most encoding needs.
HDConvertToX .2.2.525.3836
Features at a glance

Source Video Formats
Any
Source Audio Formats
Any
Source Containers
MP4 (.MP4/.M4V)
AVI
Matroska (.MKV)
MPEG-2 PS (.MPG/.MPEG)
DVD (.VOB)
MPEG-2 TS (.TS/.M2TS)
Output Video Formats
MPEG-4 ASP (DivX/XviD)
MPEG-4 AVC (X264)
WMV
Output Audio Formats
Passthrough 1
AC3 (Dolby Digital)
AAC
MP3
WMA
Vorbis
Output Containers
AVI (.AVI)
MPEG-4 (.MP4)
Matroska (.MKV)
Blu-ray MPEG-2 TS (.M2TS)
Windows Media (.WMV)
Tools
D2V/DGA index file creator
Video analysis
Automatic deinterlacing & IVTC
Automatic crop & resize
Bitrate calculator
Compression test
1 Keep original source audio stream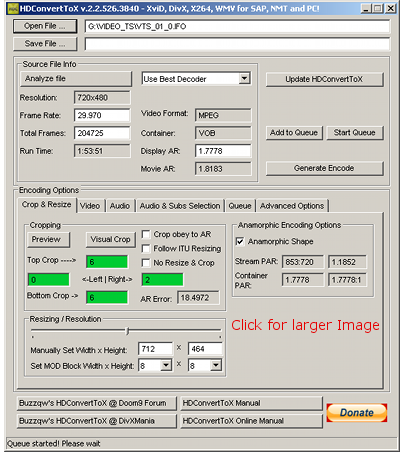 HDConvertToX (HDC)is by far the newest program in this comparison. Although only a few months old, HDC is the successor to an older program called AutoMKV. As you would expect from such a young program it is less complete and has a few more rough edges than the rest of the group. Perhaps because of the developer's prior experience writing encoder frontends, HDC is probably more complete than you might expect and already shows a lot of promise.
HDConvertX can read most common types of file as sources. Some containers, like MOV and MP4, gave it problems. It couldn't perform analysis on them and told me I would only be able to access the first video and audio stream. HDC's output is primarily geared toward specific devices, or at least types of devices. You can encode for standalone (DVD or Blu-ray) player support, mux for iPod or PSP comptiility, or even author simple (movie only) AVCHD or even Blu-ray (BDMV) discs.
One area HDConvertToX definitely lags behind all the other programs is automated setup and configuration. You will need a number of third party tools downloaded and installed in order to use HDC, and you are pretty much on your own taking care of that. It has become more and more common, perhaps even standard, for software like HDC to take care of this sort of housekeeping for you.
Although it uses AviSynth and does allow you to manually add text (ie filters) to the AviSynth files used for encoding, there isn't a video preview window to see what your video looks like after any editing is done and before it is fed to the encoder. There is an interactive visual crop tool, but for some reason it has to encode your video to AVC to prepare it to be displayed.
In fact that's something of a theme with HDConvertToX. Often when you start doing something in HDC you are interrupted by it encoding your video to analyze something or just present video frames.
Ratings



Input Formats/Containers
Output Formats/Containers
Automated Setup
Encoding Features & Settings
Editing Features & Settings
Authoring Features & Settings
Ease of Configuration
Ease of Use
General and interlacing analysis involve enoding video, as does presenting frames in the Visual Crop tool. You would expect AviSynth's output - the same output being encoded with x264 now - should be suitable for each of these tasks.
There are a number of areas of HDConvertToX that are clearly just rough around the edges. I won't go into great detail about this because I see no reason to believe the problems will get worked out over time. This is only version 0.2x of the software after all.
Access to video encoder settings is extremely limited. Basically you can set the bitrate (or quality value) and the desired hardware compatibility and provides a slider for preference between quality and encoding speed. Hopefully this is a sign that there will eventually be more presets for specialized applications and hardware, and perhaps even a way to create your own.
It will be interesting to see where HDConvertToX is a year or two from now. For now it is a program that shows a lot of potential but doesn't seem quite ready for most users. It is certainly worth keeping your eye on in the future.
MeGUI 0.3.1.1051
Features at a glance

Source Video Formats
Any
Source Audio Formats
Any
Source Containers
Any
Output Video Formats
MPEG-4 ASP (XviD)
MPEG-4 AVC (x264)
Snow
Output Audio Formats
Passthrough 1
AC3 (Dolby Digital)
AAC
MP3
MP2
Vorbis
Output Containers
AVI (.AVI)
MPEG-4 (.MP4)
Matroska (.MKV)
Blu-ray MPEG-2 TS (.M2TS)
RAWAVC (.264)
Tools
DG Indexer for MPEG-2 and AVC video
AviSynth script creator
Trim utility for AVS files
Lossless audio cutter
Bitrate Calculator
Chapter tool
TS stream extractor
AVI/MKV/MP4/M2TS muxers
Subtitle extractor
1 Keep original source audio stream
MeGUI is the last, and arguably most complete program in our comparison. It does the
best job of using as many features and options as possible from the underlying software, including x264, XviD, the Nero AAC encoder, AviSynth, and many other utilities. Although perhaps a little intimidating at first, MeGUI's interface, which separates different jobs into a series of individual tools, gets easier the more you use it, especially if you spend the time to save common settings to reuse later.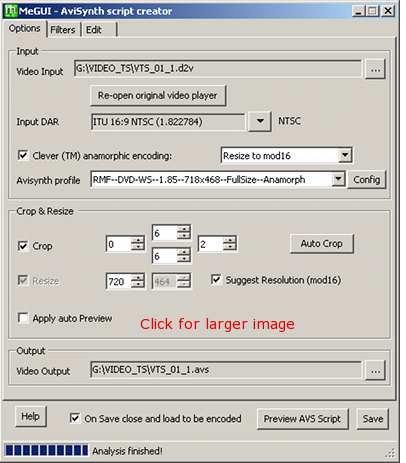 Being based around AviSynth for editing, MeGUI can open pretty much any format you can come up with. You may need to index your source first if it's a MPEG-2 or MPEG-4 AVC file, but tools for that are included with MeGUI. Output formats are MPEG-4 ASP (XviD), MPEG-4 AVC (X264), and Snow (a FFmpeg encoder).
In addition MeGUI includes MP3, AAC, AC-3 (Dolby Digital), and OGG Vorbis. If you download the free Nero AAC encoder MeGUI can also use that for audio encoding. Passthrough for source audio streams is also supported. Which audio streams may be used will vary by container and MeGUI can create AVI, MP4, MKV, or MPEG-TS (Transport Streams).
When you run MeGUI for the first time it runs an automatic update utility (which you can run manually at any time) and downloads/installs most of the required software, along with a number of presets for anything from standalone DVD or Blu-ray players to mobile phones and game consoles. For encoding you're not required to even look at them. Even the bitrate for 2 pass encoding can be populated automatically by the included bitrate calculator.
But MeGUI's biggest strength for many people will be all the options they can set for themselves. For example, when you open your source in the AVS script creator for cropping, resizing, deinterlacing, and denoising you will start out with a sort of blank slate profile called Scratchpad. Rather than giving you predefined templates telling you what settings are best, it's left up to you to decide what settings are "best" for your projects.
Although this may sound like a lot of work, MeGUI's AviSynth Script Creator automates still automates many things for you, such as detecting interlacing and telecining and maintaining the video's aspect ratio when you crop and resize. While you are editing MeGUI provides a video preview so you can see the effects of your editing immediately.
AviSynth scripts are also used to pass aspect ratio information to other programs used by MeGUI. As a result you can directly edit the Display Aspect Ratio (DAR) in the script editor. An added bonus for
Ratings

Input Formats/Containers
Output Formats/Containers
Automated Setup
Encoding Features & Settings
Editing Features & Settings
Authoring Features & Settings
Ease of Configuration
Ease of Use
people who like to use complicated AviSynth scripts is a feature for creating a lossless (HuffYUV) file from your script, which speeds up multi-pass encoding significantly for slow scripts.
MeGUI does a nice job of using information collected at various stages to make your life easier. After the D2V Creator indexes a DVD title the AVS Script Creator is automatically loaded with the new D2V file as the source video. When you save your AviSynth script it's automatically loaded as the encoding source in the main MeGUI window. If you use the Bitrate Calculator the movie's length, frame count and framerate information is automatically populated, and when you finish figuring out what bitrate to use it is automatically set in the active encoder profile.
You can also almost completely automate almost the entire process. In keeping with the overall theme of user choice, even that makes use of presets you either download or create for yourself. You even get two different tools to choose from, depending on whether you want the entire process or just encoding, muxing, and authoring (adding chapters) to be automated.