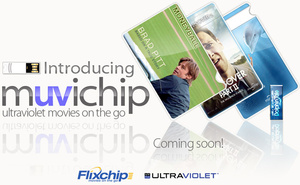 FlixChip, a new startup company, has announced that it will release films pre-loaded to USB flash drives, in an effort to replace DVDs, Blu-rays and other
streaming
options.
The company is currently in negotiations with major film studios, indie distributors and also video game producers and they have recently signed a content deal with FilmChest Media Group.
FlixChip is looking to offer its products online and in brick-and-mortar stores by the holiday season.
Dubbed the "muvichip," the company's product is a USB flash drive pre-loaded with movie content and other extra features. The device can be loaded directly into computers or devices that can read from USB, including
Blu-ray
players.
Additionally, "to accommodate tablets like the iPad that don't have USB ports, FlixChip also has developed muvifi, a small-portable player that accepts the muvichip and streams its content to any wifi-enabled smartphone, tablet or
TV
. As many as five devices can stream a movie from muvifi at the same time," says
THR
.
Muvichip will also be able to use the cloud library catalog
UltraViolet
and is compatible with
iOS
, Windows, OS X, and
Android
, a.
The drives will be expensive, unfortunately, costing on average $35 each, on par with the MSRP of Blu-rays, although the discs never cost that much at places like Amazon.
FlixChip founder and CEO John Strisower added:
"The time is definitely now for the launch of filmed entertainment on the USB platform. The key thing is that the customer already owns the hardware they need for muvichip playback and muvifi local streaming, and they already know how to use it. Along with hard media, VOD and other digital delivery systems, muvichip promises to be the next major content delivery platform."