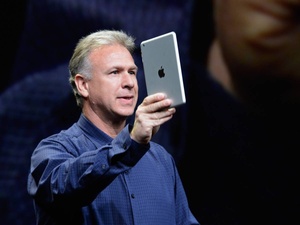 Less than 24 hours before the company unveils the most-anticipated phone of the year, Apple's senior vice president of worldwide marketing Phil Schiller went on the defensive, attacking
Samsung
and
Android
in general.
The exec called Android "fragmented" and says Apple's research shows that four times as many iPhone users have switched over from Android as have switched from iPhone to Android.
Continuing the tirade,
he added
"Android is often given as a free replacement for a feature phone and the experience isn't as good as an iPhone."

"When you take an Android device out of the box, you have to sign up to nine accounts with different vendors to get the experience iOS comes with. They don't work seamlessly together."
Apple
and Samsung continue to battle in the smartphone market, with the companies combining for over 95 percent of all the profits in the industry. It is not often that Apple goes on the defensive in this manner, especially since it is giving extra media attention to Samsung for their big day. The company continues to have innovation issues, and its stock is 39 percent lower than it was last summer.