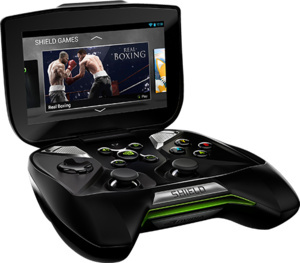 Two weeks ago, we reported that the NVIDIA SHIELD "console" would be available
for pre-orders
through multiple retail partners starting on May 17th.
Today, Nvidia's Vice President of Investor Relations Rob Csongor
has said
all May pre-orders will ship in August.
The 'console-grade' controller features a
720p
display, powered by
Tegra 4
and running
Android
.
"SHIELD is the one device that taps into the planet's largest ecosystem of games -- spanning NVIDIA TegraZone, Google Play and Steam,"
NVIDIA's announcement reads.
"Rediscover your Android games with the mobility, control and performance of SHIELD. Connect to your Google Play account to enjoy your favorite movies, music and apps."
NVIDIA SHIELD's specifications:
Tegra 4 – The world's fastest mobile processor delivers rich graphics and unbeatable performance thanks to 72 GPU cores, four CPU cores and 2GB of RAM
Console-grade controller – Precise control thanks to dual analog joysticks, a full-sized D-Pad, left and right analog triggers, full-sized bumpers and A/B/X/Y buttons
Multi-touch display – 5-inch, 720p retinal multi-touch display for high-fidelity visuals
Integrated speakers – Custom, bass reflex, tuned port audio system – we think this is SHIELD's sleeper feature
Pure Android – Latest Android Jelly Bean operating system from Google, for access to Android games and apps
View a complete spec sheet
here
.
SHIELD is also available through Newegg, GameStop, Micro Center and Canada Computers for $349.