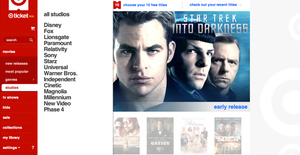 Target's long-awaited video download and
streaming
service, 'Ticket,' is ready for launch.
Consumers will be able to rent and purchase digital copies of their favorite movies and TV shows, and then stream them across any device they own including TVs,
Blu-ray
players, smartphones, tablets, consoles, and set-top boxes.
At launch, there will be 15,000 titles, ranging from classics to new releases. New movies will cost $15 to buy and rentals will cost $3.99/$4.99, on par with biggest rival,
iTunes
. A TV episode will cost $2.99 and a full season will cost in the range of $34.99.
Networks already signed up are ABC, AMC, CBS, CW, Fox, FX, HBO, The WB, NBC, Showtime, Starz, and USA.
While
iOS
and
Android
devices work out of the gate (among plenty of other devices),
Crunch
reports that only
Samsung
TVs and Blu-ray players will work with Ticket at launch, with
Sony
,
Panasonic
,
Funai
and
Philips
support coming in very near future.
When renting a movie, you have 30 days to start watching and 48 hours to view it once you start.
The service is set to launch this fall.