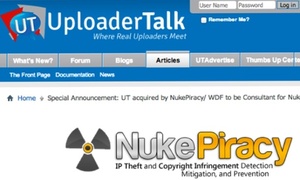 The popular
warez
site UploaderTalk is sending shockwaves across the industry as it has been purchased by the anti-piracy company Nuke Piracy.
The site collected data on users, file hosters and other websites for a full year before being sold, being a piracy 'honeypot' that has users terrified. The term honeypot refers to a facility that runs, encourages criminal behavior, and then collects incriminating data under false pretenses.
As an added bonus to rub it in, the operator of UT, who goes by the moniker WDF posted this
on the homepage
:
"That's right – the biggest swerve ever. I, WDF, work for the anti-piracy people! UT was set up for a number of reasons. But mostly to be a sounding board, proof of concept ... and to collect data. I collected info on file hosts, web hosts, websites. I suckered shitloads of you."
WDF was formerly a senior member of the filesharing site WJunction, and UT was designed to attract pirates that upload for profit, using file hosting affiliate programs.
Nuke Piracy, based in the U.S., states on their "About Us" page that they use "proprietary and unconventional methods we do not discuss or disclose our methodologies, processes, and procedures publicly."