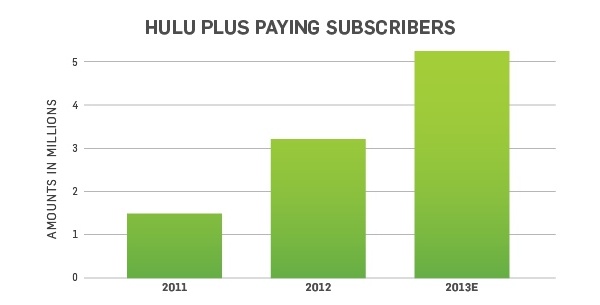 New Hulu CEO Mike Hopkins revealed some impressive figures for the
streaming
service for the end of 2013.
In terms of revenue, Hopkins says the company will reach $1 billion for the first time, up from $695 million in 2012. The company has seen similar growth figures every year since coming out of beta in 2008.
Hulu Plus subscribers have reached 5 million, each paying $8 per month to get mobile access to TV shows and movies and back catalogs for popular shows.
Hopkins says over 2.5 million paying subscribers stream Hulu exclusively on devices rather than on their computers. Hulu Plus is most popular on consoles, Chromecast, and of course
Android
,
iOS
and Windows Phone smartphones and tablets. Additionally, the company refreshed the user interface for Hulu Plus on hundreds of devices, including the
Apple
TV, SmartTVs, Roku, PlayStation, Xbox and the
Wii
, adds Hopkins.
Finally, the company says content available is now up to 86,000 TV episodes, 2,900 TV series, and 68,000 hours of video from 488 content partners.