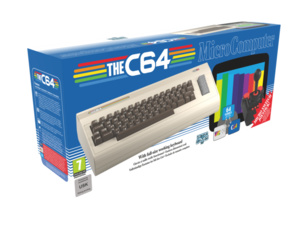 In the previous few years mini-sized retro gaming consoles have become a thing. With tiny versions of
NES
and
SNES
as well as the
original PlayStation
and even
Commodore 64
, nearly everyone's favorite retro gaming rig was brought back to life in a tiny form factor.
Now, however, Retro Games Ltd. is bringing back Commodore 64 in its full-sized glory – with working keyboard and everything.
The new product, called TheC64, was available via Indiegogo, where it managed $100,000 in crowdfunding. Now The64 MicroComputer is shipping, just in time for some Christmas retro gaming.
It comes with a very authentic looking main frame with, as mentioned, working keyboard. There's also a joystick and a total of 64 games in either C64 or VIC-20 mode. It comes preloaded with classics like California Games, Paradroid and Boulder Dash.
You can load your own games and programs, and the company even has combined its forces with game developers to produce a TheC64 exclusive new games, Sam's Journey.
The games are transferred to your desired screen with a HDMI port in 720p at 50 or 60 Hz.
Unfortunately at this point the product isn't officially available in the US. In the UK, via Amazon and others, TheC64 retails for around $140 to $150.
You can find more information about the device at
retrogames.biz/the-c64
.