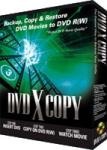 The eagerly awaited
DVDXCopy
, the software that can make perfect backup copies of DVD movies, from
321Studios
is nearing it's release to pre-order customers. The latest, and possibly final beta was released yesterday for betatesters. The official release date for the final product is now
Friday, November 8, 2002
.
During the past couple of weeks the AfterDawn.com community has been helping 321Studios in beta-testing the product. The progress has been amazingly rapid, and at the current state of development DVDXCopy is compatible with the majority of DVD-R and DVD+R drives on the market and capable of backing up most of the movies out there.
The full discussion so far can be read at:
http://forums.afterdawn.com/thread_view.cfm/8552
We have now opened the official DVDXCopy support forum at:
DVDXCopy.afterdawn.com
All future discuscussion regarding DVDXCopy should be directed there.
Read more about DVDXCopy and pre-order your copy today to get a $20 discount before the product is released at
DVDXCopy.com
.