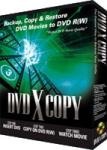 With the release of
DVDXCopy
right around the corner, we decided to take a look at the product and see how it works in action.
Our enthusiastic test lab put the product to a challenge by throwing it into the mouth of
Jaws
, the most horrendous beast ever to swim across the silver screen. As it turns out, it was Jaws who ended up in the grinder after all.
"Even though the product is still in very early stages of development, DVDXCopy shows great promise, and will surely be de facto for backing up your DVDs in near future. There are some rough edges to smoothen, and for now only NTSC movies are supported officially (although I have also tried it with PAL movies successfully), but nevertheless I'm impressed. There's no arguing that DVDXCopy is infinitely easier to use than any other DVD backup product on the market today."
Read the full article
.
Discuss DVDXCopy
.