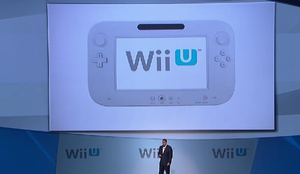 Nintendo's Katsuya Eguchi
has confirmed today
that games for Nintendo's upcoming
Wii
U console will be on single-layer 25GB "proprietary" discs.
The PlayStation 3 uses Blu-ray discs, mainly single layer, but some games have been put on dual-layer 50GB discs.
When asked, Eguchi denied to comment on the expected 8GB of internal flash memory in the Wii U, but did confirm that external USB drives would be supported.
At E3,
Nintendo
did not show off the console itself, but instead displayed the incredible new controller, which features a touchscreen and
streaming
capabilities.
The large controller has a 6.2-inch touchscreen and can work as a standalone gaming device, as well. There are two circle pads, a regular d-pad, shoulder buttons, rumble, a camera/speaker/mic and gyroscope/accelerometer sensors.
The Wii U controller offers gamers a chance to use the second screen for many activities, including catching/pitching the ball in
Wii Sports
, or even playing hide-and-seek with other controllers.
If you ever have to leave your
HDTV
, the controller can be used to continue the game, seamlessly, from a different room on the tablet screen.
Because of the seamless streaming, gamers can transfer the video they are watching on the tablet to the HDTV and enjoy on the larger screen. A full Web browser is included.
The controller also has games, like chess, checkers and few others showed off by Nintendo.
Because the controller comes with a stylus and editing program, it can be used as a graphics tablet for artists.
Finally, because of the camera, the tablet can be used to video chat with others.
Some of the technical specs of the new console include
1080p
output, Six-channel PCM linear audio, internal memory with
SD
card/external HDD expansion. The Wii U is compatible with all Wii games, peripherals.