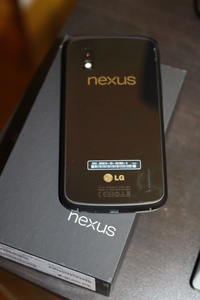 In early November, Google announced their latest Nexus phone, simply called the Nexus 4. The device is built by
LG
and packs high-end specs along with a price tag that is unbeatable.
Google decided to skip the carriers with the new device, instead selling it through their own Google Play Store starting at $299.
Unfortunately, the company was met with launch day hangups that caused the Play Store to crash and for a small number of would-be buyers to actually be able to purchase the device. In early December, the company began offering another lot of their inventory, and was once again met with server crashes and errors. However, many more people were able to purchase, with shipping times of 4 weeks, or more. Those devices are being received by Google fans, now.
Despite being an excellent vanilla
Android
phone (especially at the price), there are some downsides. Let's get into the review.
Specs and Design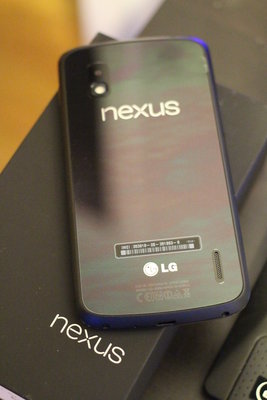 The Nexus 4 features much improved specs over the excellent
Galaxy Nexus
. The processor powering the phone is a 1.5GHz Qualcomm S4 Pro. The processor alone makes the device one of the fastest yet released, but being tweaked and running on a vanilla version of Android with no horrible third-party UI means the device really flies. Even after downloading all apps, it was easily the fastest phone I've ever used.
Additionally, the device has 2GB of
RAM
, 8 or 16GB of internal storage (no
microSD
slot), and a large 2100 mAh non-removable battery. As is standard, there is
802.11
b/g/n Wi-Fi, Bluetooth 4.0 and
NFC
. Unfortunately, and while it is not a complaint for me, there is no
LTE
support for the Nexus 4, despite there being a dormant LTE chip inside that works on certain bands. The lack of LTE will be a huge deterrent for most, but living in NYC and having T-Mobile I fortunately had no complaints with my data speeds. It does seem inexcusable for Google to not add LTE support when even
Apple
has it now, especially in the U.S. where AT&T and T-Mobile will fully roll out their LTE networks next year, but Google says their decision was mainly battery life related.
On the design side, the phone is a hybrid of the
LG Optimus G
and the Galaxy Nexus and it is a very elegant look. The phone is sleek black with
silver
trim and a glass back. The back is non-removable but does feature scratch resistant glass. I have not had issues with it yet, but I would certainly recommend some kind of cover or sleeve for the device because that back cover will absolutely crack if it's dropped from high enough.
The device is about as light as the Galaxy Nexus but has a full body design that is evenly weighted all around, unlike the Galaxy Nexus, which has a thicker bottom and a very thin top. Part of that silver trim is also tapered edges, making the phone very comfortable to hold. The device feels expensive.
There is very little on the device itself except for a small speaker grill on the front and back, two cameras, a power button, volume rocker and a micro-SIM slot on the side (since the back cover cannot be removed). Overall, a very elegant package.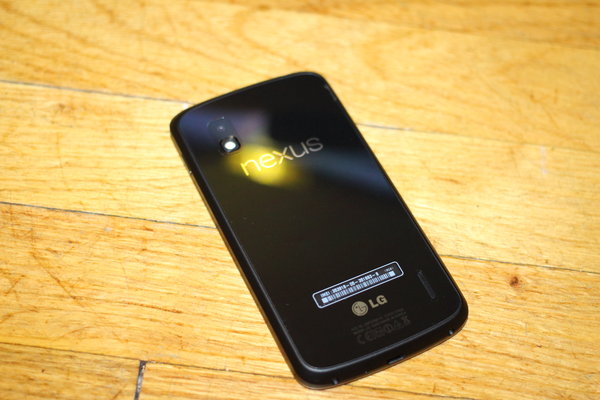 Display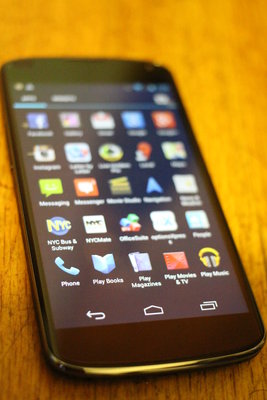 LG has placed a fantastic display on the Nexus 4. The Nexus 4 features a 4.7-inch True
HD
IPS PLUS with 1,280 x 768
resolution
and 320ppi, a large upgrade, in my opinion, from the Pentile-packed Super AMOLED of its predecessor. Everything looks crisp, and color reproduction is strong, as is contrast.
The company also used a new technology to integrate the screen's touch sensor into the outer layer of the glass, making the pixels closer to the actual display. This is the same tech we have seen in the new
iPhone 5
. Corning Gorilla Glass 2 is also standard, protecting the phone from scratches and cracks.
Although it was never much of an issue with the Galaxy Nexus, the 4 did provide me the least "sunny day" glare. Brightness did not need to be turned up to 100 percent to be able to read on a normal day with sun. Viewing angles are fantastic, as well. Overall, a very pleasant experience.
Performance and Battery Life
As stated before, the performance on this phone is blistering. The new
Jelly Bean
(Android 4.2) is Google's most efficient operating system and matched with high-end hardware, it's a great combo. 80 apps installed later and there was zero lag, whether on app opening or just flicking through multiple screens with multiple apps open. It was almost somewhat strange to not feel the minor lag I've been experiencing with the Galaxy Nexus. It was also a relief.
I found the device to be much faster than other devices with quad-core processors, likely because it was not hindered by a third-party UI like Samsung's
TouchWiz
or HTC's Sense.
Battery life was also very solid, on par with that of the Galaxy Nexus, although neither has spectacular battery life. With moderately heavy use, battery life clocked in around 13-15 hours. With light use, 18-20 hours was completely accessible.
Camera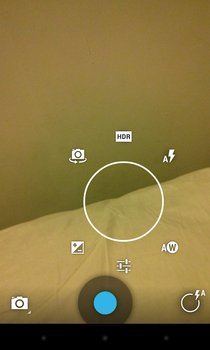 The camera is a massive improvement over the small megapixel-ed Galaxy Nexus. Google completely revamped the camera software, as well, adding new features and a minimalistic interface (at first glance).
Samsung
featured an outdated 5MP camera in the Galaxy Nexus but LG was quick to add the standard 8MP. Of course, megapixels aren't everything but there is certainly a difference between the two.
When going into camera mode for the first time, there is little else but a viewfinder, a toggle for camera/video/panoramic modes, the
shutter
button and settings. If you press the viewfinder, however, a circle will show up in the middle of the screen. You can gesture drag from this circle to be greeted by many new options, including native HDR, white balance, scene modes and flash. The gallery preview has disappeared, as well, and been replaced with a gesture. Swipe to the left from the right side and the "Filmstrip" gallery view appears. Very nice addition.
Images were crisp, as were colors and low-light quality (below) but the camera did not live up to the industry standard (the iPhone). Shutter speed was slow in many cases and the exposure and settings can take some getting used to.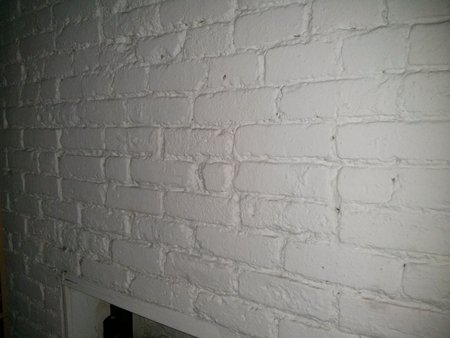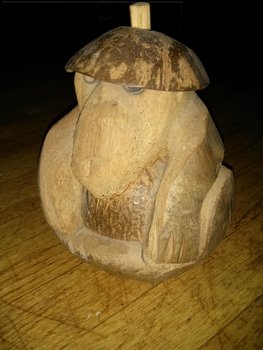 Software and Ecosystem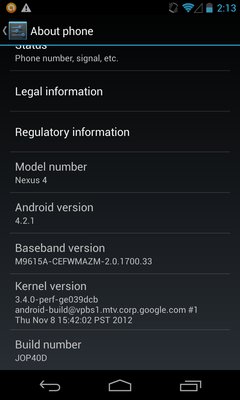 As with any other Nexus device, you are paying for the Google experience and that is most likely the reason you are buying the device. The Nexus 4 does not disappoint. As stated, Jelly Bean 4.2 is the most innovative, fastest and visually appealing version of Android yet, and it is isn't really even close. While
iOS
has (let's face it) flat-lined over the past couple of years in terms of aesthetics and software innovation, Google has continued to improve. If it were not for serious fragmentation issues, Android would have an even bigger lead in the smartphone market.
The features of Android 4.2 have been explained in depth across Afterdawn over the last couple of months so I will keep it brief here. The main new addition to the notifications screen is a new grid that includes your profile and quick links to settings, brightness, battery life, Wi-Fi, etc. In the camera, there is "Photo Sphere," a new vertical panorama setting along with a much improved standard panorama mode.
Finally, there is widget locking for the lock screen, giving you access to your most used
streaming
apps (stocks, Twitter, Facebook) without having to unlock the device. Additionally, you can reach the camera this way by swiping right from the lock screen. Both are very handy features.
Google's ecosystem is as good as it gets, and is at this point almost on par with Apple. Where Apple still excels is its music and movies integration. Google has tight integration of both, but the libraries are not there yet. The Play Store recently surpassed the iOS App Store for app count (not that it matters) and revenues are flying as developers see the potential gold mine.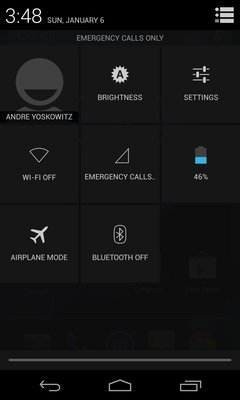 Conclusion
The
Google Nexus 4
is a sleek, strong smartphone built with high-end hardware and a high-end operating system. It features a fantastic display, and performance is zippy. LTE is notably missing, but fortunately for me this was not a problem. I could absolutely see where it would be a dealbreaker in many other instances, however. Storage can also be an issue, but this is all part of Google's master plan to have all your info in the cloud.
At $300 off-contract, the price cannot be beat, especially since Apple and Samsung charge above $600 for their flagships unlocked.
Google has a winner here, and easily the best Android phone I have used. Now if they could just get their supply chain right.
Specs 8/10
Design 9/10
Display 9/10
Battery Life 8/10
Performance 10/10
Software 10/10
Ecosystem 9.5/10

Total: 9/10