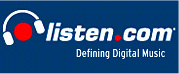 Listen.com
told press today that streaming media giant
RealNetworks
has made a strategic minority investment in Listen.com.
The move might tell something about Real's faith in its existing investment in music subscription service
MusicNet
that competes directly with Listen.com's
Rhapsody
service.
This speculation is underlined by the fact that new version of MusicNet was launched today at
AOL
's web properties, but Real hasn't hinted will it even bother to update its own MusicNet service to the new version.
Source: News.com