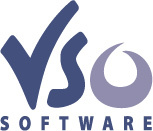 The
VSO Software
hints on their websites download page that the DivxToDVD software will be soon available for download. This is a logical continuum to the VSO's line of product, which has been extending from CD recording towards DVD and multi media.
It is expected that once again VSO has made a very simplistic solution for a highly popular task - conversion of video files to a DVD compatible format. They have used a similar strategy before, in the
PhotoDVD
software. This is a first step for VSO in this field, as it was with PhotoDVD too, and it is expected that their software will develop further in the future.
Source:
VSO Software