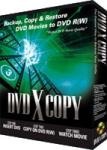 On Thursday seven Hollywood studios filed a claim against
321 Studios
saying that they are trafficking in illegal products - namely
DVDXCopy
. 321 Studios filed a suit against the studios in April and sought a ruling, that
DVD Copy Plus
was a legal product. The lawsuit was later amended to cover DVDXCopy as well.
The studios decided to file a counterclaim, because they feel that the situation is now different with DVDXCopy on the market. Initially they sought only to dismiss the case, but now they asked U.S. District Judge Susan Illston to forbid 321 Studios and its executives from making or selling either of the two software. In addition the studios asked to be awarded all the profits of 321 Studios and its the entire inventory of DVD Copy Plus and DVDXCopy.
DVDXCopy allows the consumers to make DVD-to-DVD copies. 321 Studios argues that DVDXCopy includes features, such as a disclaimer and individual watermarking, that deter pirates. DVDXCopy is intended strictly for creating backup copies of purchased DVDs for personal use, and it refuses to make backups of backups - it only works on original DVDs.
Read more about DVDXCopy at
the official site
or
the official DVDXCopy support forum
.
Source:
detnews.com